Stephen Colbert and David Letterman watch out!
As if things could not get worse - You may remember the laughter created last year when it was revealed that in 2005 the Bush administration attempted to hold the Easter Bunny without legal counsel or trial at the CIA's detention center at Guantanamo Bay, obstensively for "planning to commit 56 million cases of periodontal terrorism" across America on Easter Sunday 2005, citing legend and past practice as evidence of future intent. (Though it was also rumored that President Bush was tired of losing the Annual White House Easter Egg Hunt and wanted an excuse to cancel the whole thing.)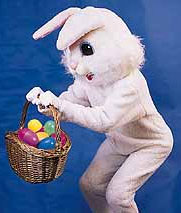 Ultimately, the investigation broke down after the international media, entered the fray, leaving no Peep unturned. Also a problem was that while the Guantanamo Bay facility was designed to be escape proof for most human beings, designers failed to accommodate the skills possessed by giant, magic, hopping rabbits, such that as the time came clear for The Easter Bunny to head home to pick up his eggs and head out on his delivery route, neither their facilities at Guantanamo bay, not the location of the facility proved any difficulty in caging him further.This year's gaff, seems to make that little farce seem like a stroll in farmer McGregor's Garden as PAAS-tel faced Bush officials whispered that the Easter Bunny had been put on the Federal "no fly list".
"As if the Easter Bunny flies!" One staffer who wants to protect his daughter's Easter stash exclaimed, "this isn't Santa or the Tooth Fairy we're talking about! This had to come right from the top, the very top, Cheney!" whined another. "Who could forget that this wily wabbit just hopped off Guantanamo leaving Easter Baskets for everyone there? Even the non-Christians! Boy were they surprised!"

"Like a "No Fly list" means anything to a magical symbol of Easter and the miracle of God! The next thing you know we'll be looking for weapons of mass inflation in our tummies or WMD's in the Tooth Fairy's quarters or Santa's stockings, because their outside interference might dip into 4th Quarter sales! Hmph! As if Easter Candy lasts more than a couple of days."
Glad to see that some sense has entered the Republicrat Party. At least some of it.
Hoppy Easter, Hanukkah, or whatever way you worship this weekend.
Editor's Note: This piece was edited for spelling and content errors vewy, vewy, early on the morning of Easter Thursday after the effects of his Easter Candy binge had begun to wear off and before CVS candy sales had dipped below 50% off.
The staff of this blog have received No hop-backs for the content of this post.

Peter Rabbit, Chief Editor and Spell Wrecker
The Peter Files Blog of Comedy, Satire and Commentary
Labels: Best Of, Bush, Celebrity, Classic Comedy, Easter, Jokes, Photoblogs, Politics, Satire
===> We love comments about our posts good or bad!
Please make comments by clicking on the word "Comments"!
Click on the Envelope to forward posts to your friends! Thank you! The staff.
---
Don't miss this sale! Amazon.com takes 50% Off 100 Plus DVD's & Sets!