I wish this site was around when I was in grammar and high school.
The most confusing thing about History was keeping the timelines straight.
It wasn't just a matter of dates, it was that so many things were happening concurrently. What I really needed was some way to lay it all out so that I could see how the lives of people, historic events and changing place names and places interacted (It's Istantbul not Constantinople, Yes, It's....).
Naturally, I wouldn't be bringing this up if it were not for the folks at
Hyperhistory.com
who deserve considerable recognition for making history more accessible and easier to put together as a whole.
Here's a view of one of their pages: you can see how cool it is. This shows a people view with overlapping lifespans. You can specify fields of work or interest and click on a name to get a bio with accomplishments, or click on the arrow keys on the upper left to go backwards (and once you've done so, forwards) in time.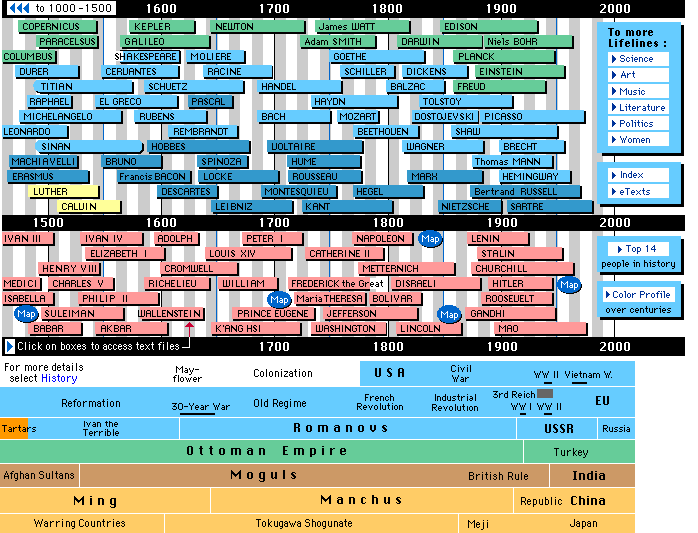 This is a view of a recent history timeline. Note the large number of hyperlinks. They bring up explanatory text in a column on the right which in turn often takes you to other off site links. The well written and highly detailed When Did The Millenium Begin? discussion alone is worth the trip to this site.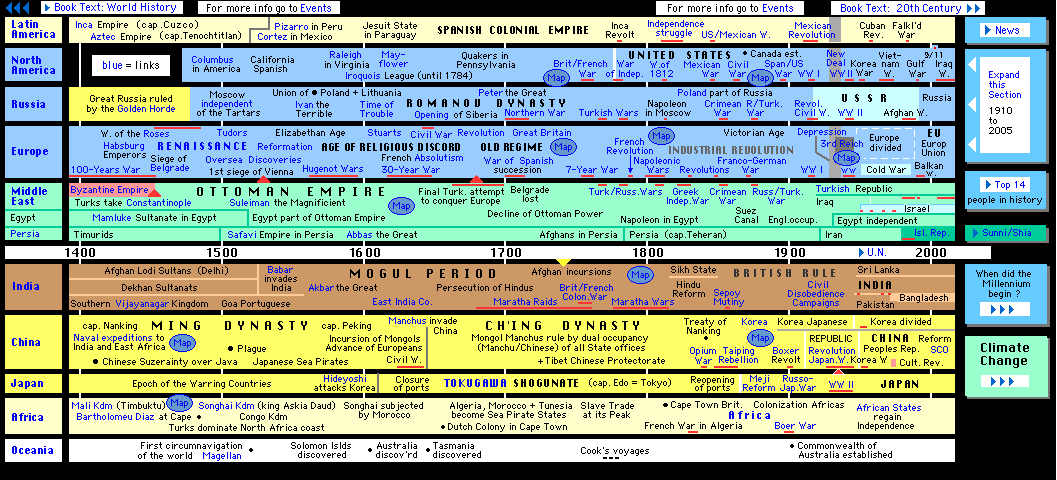 As you look at the timeline, note the little blue Map icons. They have lots and lots of historic maps that should make historic map buffs drool with pleasure. For the rest of us, they help bring sense to all of the changing mix of historic names and places.
There is a lot more to see at this website. While I doubt that this site alone is enough to convert you into a history fanatic, I hope I have made you a bit curious about this site.
Navigation is easy, by the way. Big buttons on the left help you get around. A very nice design. Why not go see it?
That's it for now.
Thanks for stopping by ThePeterFiles.Blogspot.Com
Be sure to tell your friends about it!
If you want to add this blog as a newsfeed, you can, see my
RSS Enabled Post
by clicking on the link.
Until next time!
Peter
Phi Alpha Theta
===> We love comments about our posts good or bad!
Please make comments by clicking on the word "Comments"!
Click on the Envelope to forward posts to your friends! Thank you! The staff.
---
Don't miss this sale! Amazon.com takes 50% Off 100 Plus DVD's & Sets!