Centrifugal Force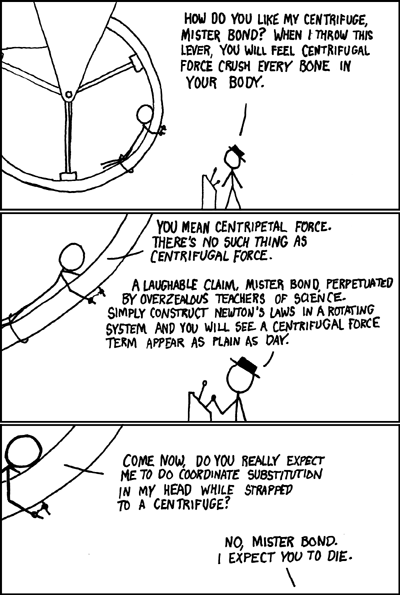 I remember sitting in AP Physics trying to get my head around the mysteries of "centripetal force" and why there "was no such thing as centrifugal force". 
How I wish I had this comic back then, just to show it to Fr. Fergus, S.J. (RIP) who would have roared with laughter, or just to alleviate my frustration with the math that was making my head spin. 
He would have, of course, been in the "centrifugal force is not an actual force but the effect of the combination of other forces" camp. The point here, that whether it is an actual force or a combined force that kills you, you're still just as dead, is a very funny one indeed.
So be sure to check out the continuing saga of many really original laughs at xkcd.com. Quite a few romantic ones too. 
This is one of those cartoon sites that makes me wish I had saved all my doodles or learned to draw and think funnier. Of course 97.5% of my doodles were 3-D boxes and extensions of them. A limited market for those today. If you are asking why other shapes commonly found in young men's doodles were not high in that total I have a two word answer for you.
Jesuit Education.
The penalty for being caught with naughty drawings could be severe.
Unlike a Christian Brothers school you would not get hit on the head with a ruler for daring to draw body parts in class, instead, you risked either having to explain why you, of all of those in the room were so special that you did not have the need to pay attention in class, and then demonstrate your superior knowledge of the subject at hand, or, worse yet, might have to display your artwork to the class, and make comments about its artistic merit at length, inviting criticism, blatantly honest criticism which was of course, freely given, especially after the bell, from the class.
Nothing beats a little humiliation and peer pressure for "Character Building" and creating an advanced sense of social responsibility.
This strip was not only funny but invoked many memories.
Amber, Amber, Amber, I can still hear you barking in the quad.

(Amber was Fr. Fergus' German Shepherd who could be frequently heard barking during the course of the school day, not exactly the geese of Rome, but we liked the old dog who was far more often heard than seen.)

Speaking of social responsibility, let's have one more!


Duty Calls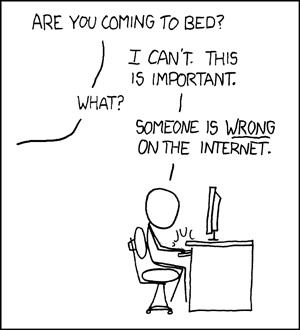 Sharing comedy is a wonderful thing to do. If you wish to share my comedy with your friends, non-commercially, feel free to do so using the email-share link button shaped like an envelope below. Better yet, send them the link to this post, or any other that you like here. New readers are always welcome! But don't sell them or use them in a sold work, my original works are fully protected under international copyright law.

Peter, Chief Editor and Spelling Wrecker
The Peter Files Blog of Comedy, Satire and Commentary
Http://ThePeterFiles.blogspot.com

---
Labels: Anachronisms, Check this out, Classic Comedy, Movies, Science\Math Jokes, Superheroes
===> We love comments about our posts good or bad!
Please make comments by clicking on the word "Comments"!
Click on the Envelope to forward posts to your friends! Thank you! The staff.
---
Don't miss this sale! Amazon.com takes 50% Off 100 Plus DVD's & Sets!