And you thought you got nervous before the SAT's? Perhaps a little sleepless before the ACT's? Well for two days in June 8.67 million Chinese high-school graduates -- vye for 2.3 million undergraduate spots, a much higher rejection rate than anything you would see over here. Now that's tension.
So, I thought I'd bring you some stories from China reflecting what it was like over there, in part to remind you of how lucky we are to be over here. These are excerpts, click on the links to see the whole story.
Students prepares for test as they would for battle
By Li Jian
Shanghai Star. 2005-06-02
ANXIETY, depression, hysteria, low self-confidence, the sense of waiting for something to happen but hoping it never does. That's not the feeling of an inexperienced soldier before a fierce battle but what Zhang Jie is feeling before the college entrance examination.
The examination days - June 7 and 8, - are not doomsdays but are, in fact, judgement days. They will decide if one can attend a university, which will later bring a job.
...
As kids sit tests, it's exam blues for parents
By Zhu Zhe and Wang Zhuoqiong in Beijing; and Cui Ning in Dalian (China Daily)
Updated: 2005-06-08 00:23
In imperial times, they were described as being akin to a carp jumping the (mythical) Dragon Gate to swim out to the sea -- almost impossible.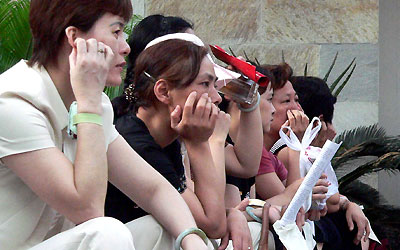 Parents wait outside a high school as their children sit the annual national college entrance exam in Fuzhou, June 7, 2005. [newsphoto]
In modern China, they are likened to "thousands upon thousands of men and horses trying to cross a narrow footbridge".
From the Imperial Civil Service Examination in ancient times to today's National College Entrance Examination, one thing has remained constant: the tests are tough. And they cause a lot of anxiety among students and parents.
So it was yesterday as 8.67 million Chinese high-school graduates -- vying for 2.3 million undergraduate spots in a total enrolment of 4.75 million -- sat down for the first day of tests that will shape their lives.
...
Xu Wencheng, who is sitting the arts exam, said he couldn't sleep the previous night.
"The future of my life will be decided in two days of tests and I'm afraid of disappointing my parents and teachers," he said.
In many cases, though, it seemed parents were more worried than their children.
From the tragic death of a parent who came to drop his son at an exam centre in the capital, to parents praying for their children's success in a Dalian church -- their concern was evident.
In Beijing, Wang Weidong, 49, had a cardiac arrest while waiting for his child at the gates of Guangqumen Middle School. An ambulance crew found that his heart had stopped beating and he was rushed to nearby Chuiyangliu Hospital, where he was declared dead.
...
Wang's family did not tell his child about the death straight away, fearing the news could affect exam performance.
'Unlucky' cabs banned from carrying examinees
(Agencies)
Updated: 2005-06-07 10:06
A Shanghai taxi company has banned cabs with unlucky license plates from carrying students to sit the National College Entrance Examinations (NCEE) this week.
Dazhong, the city's largest taxi company, won't carry students in cabs with license plates ending in the number four, pronounced in the Shanghai dialect the same as the word "lose."
Many Chinese avoid four because it is pronounced the same as "death" in widely spoken Mandarin.
"Lots of parents refuse to take cabs with number plates which they consider unlucky," the Shanghai Youth Daily on Monday quoted Dazhong's taxi boss Zhao Leping as saying.
....
The number of six also unluckily has similar pronunciation with the word "fall" in Shanghai dialect, which was seen to bring bad luck to the exam takers.
...
If you had exams this year, I hope they were lucky!
Peter
===> We love comments about our posts good or bad!
Please make comments by clicking on the word "Comments"!
Click on the Envelope to forward posts to your friends! Thank you! The staff.
---
Don't miss this sale! Amazon.com takes 50% Off 100 Plus DVD's & Sets!