At 6:04 Pm white smoke appeared from the Sistene Chapel. Soon the world would know that the 256th Pope would be George Cardinal Ratzinger who took the name Pope Benedict the XVI, the first German speaking Pope in 948 years.
A close friend of Pope John Paul II, Benedict XVI is not likely to be less conservative, but is also considered to be brilliant and a scholar, and at age 78, a good transitional Pope, because it would be difficult for any pontiff to match up to the record of Pope John Paul II and his legacy.
The
Vatican Website
includes information on the Holy Father, including a
Biography of Pope Benedict the XVI
.
The Text of the Pope's First Traditional Blessing, The Urbi et Orbi, or "For the City (Rome, as most know, the Pope is the Bishop of Rome) and For the World" follows below.
*
Urbi et Orbi Blessing
Dear brothers and sisters,
after our great Pope, John Paul II, the Cardinals have elected me, a simple, humble worker in God's vineyard.
I am consoled by the fact that the Lord knows how to work and how to act, even with insufficient tools, and I especially trust in your prayers.
In the joy of the resurrected Lord, trustful of his permanent help, we go ahead, sure that God will help. And Mary, his most beloved Mother, stands on our side. Thank you.
*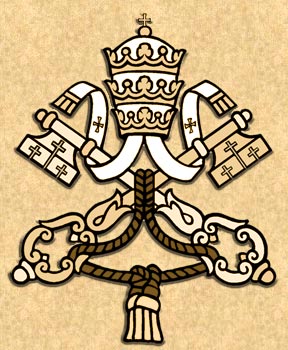 Details of his ring and staff or crozier will follow.Upon election thinks move quickly, the Vatican website already shows the Papal seal.
For more Information try this
Google News Search
which should bring up everything you would want to know and more.
Peace,
Peter
===> We love comments about our posts good or bad!
Please make comments by clicking on the word "Comments"!
Click on the Envelope to forward posts to your friends! Thank you! The staff.
---
Don't miss this sale! Amazon.com takes 50% Off 100 Plus DVD's & Sets!