I stumbled onto the
PostSecret
blog this morning.
People make postcards, often with the graphics programs on their printers, and mail them in anonymously, as part of an online web community art project.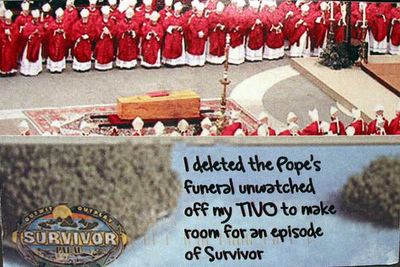 Some secrets are funny, others are sad, most ring true. But as a public art project, there is no doubt that it is wildly sucessful.
Here are the instructions from the Post Secret Blog for submitting a secret:
Mail In Your Secrets Today
You are invited to anonymously contribute your secrets to PostSecret. Each secret can be a regret, hope, funny experience, unseen kindness, fantasy, belief, fear, betrayal, erotic desire, feeling, confession, or childhood humiliation. Reveal anything - as long as it is true and you have never shared it with anyone before.
Create your own 4-inch by 6-inch postcards out of any mailable material. But please only put one secret on a card. If you want to share two or more secrets, use multiple postcards.
Please put your complete secret and image on one side of the postcard.
Tips:
Be brief - the fewer words used the better.
Be legible– - use big, clear and bold lettering.
Be creative - let the postcard be your canvas.
Mail your secrets to:
PostSecret
13345 Copper Ridge Rd
Germantown, Maryland
USA 20874-3454
Email questions or comments to: Frank@docdel.com
The Blog is updated every Sunday.
This is a blog worth checking out!

Peter

Oh, what's my secret? Well if I told you it wouldn't be a secret would it? Perhaps you should watch the Postsecret blog in the upcoming months for one that could be from yours truly. Maybe I'll hint in the comments.....

Labels: Best Of
===> We love comments about our posts good or bad!
Please make comments by clicking on the word "Comments"!
Click on the Envelope to forward posts to your friends! Thank you! The staff.
---
Don't miss this sale! Amazon.com takes 50% Off 100 Plus DVD's & Sets!